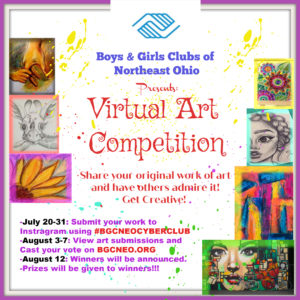 Welcome to the Cyber Club!
Follow along in order or mix it up!
Welcome
Fun Facts of the Day

There are 293 ways to make change for a dollar.
A dime has 118 ridges around the edge.
Most people fall asleep within seven minutes.
Fitness
Arts
Cadets
Activity #1: COVID-19 Safety Measures—  Learn why it's still important to remain safe during COVID-19.  
Activity #2: StarFall— Check out this site that specializes in reading, phonics & math – educational games, movies, books, songs, and more for children K-3
Activity #3: Taste Buds— Your tongue, the tastemaker, tells your brain the flavor of what each food you eat tastes like.  Check out the link below and learn why we have taste buds.
Education
Activity #1: Easy Kids Science: Iron— Why does your body need iron and how can you get it?  Well, your first meal of the day can help you out with this!  Watch this cool science experiment to see the iron in your cereal!
Activity #2: Wildlife Wednesday: Ferrets— Today, we are going to learn about ferrets!  Have you ever seen a ferret?  Warning! If you get a pet ferret, they are a fur ball of energy!
Activity #3: Journey Inside Your Body—  Flamin' Hots is a favorite, but do you know what happens to it once you put it in your mouth? Watch this cool, informative video to find out what happens inside your body after you eat something!
Activity #4: Today's Affirmation: Pep Talk from Kid President to You— You are an A-M-A-Z-I-N-G person!  Need some more encouragement?  Then you need a pep talk from Kid President!
Teens
Character and Citizenship
Want to show us your name mandala, carioca skills, or say "hey" to your friends at the Club? 
Post on social using the hashtag #bgcneoCyberClub!