Join a Club this summer
Summer programming is available across the region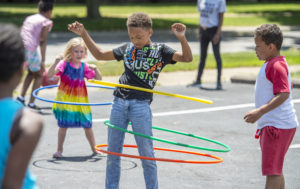 We are now accepting membership signups for our summer programming at sites across the region. Please note that the list of summer sites below does not include Clubs that operate only during the school year.
There is no charge to join a Club. To sign up your child, click on this registration link, choose 'Need a login?' at the bottom of the screen and set up your account. Once you've done that, you will receive a confirmation email.
Then select Browse Membership, select ALL CLUBS and select your county. It will list all available sites. Select the correct site. You can then create a new contact, which is the information about the child. You can add more contacts if you are registering more than one child.
Already have a child at the site? You can still set up an account but make sure you use the same email that is on file. Then when you login there will be a link to your child or children.
BGCNEO serves kids ages 6-18. Check with your local Club for its member age ranges and operating hours.
Club Locations:
Please note: The list below shows only sites open in the summer. Clubs open during the school year will be added before the start of classes in the fall.
Cuyahoga County
Broadway Club: 6114 Broadway Ave. Cleveland
Saint Luke's Club: 2705 Martin Luther King Jr. Drive, Cleveland
King Kennedy Club: 2561 E. 59th Street, Cleveland
Stepstone Academy: 3328 Carnegie Ave., Cleveland
East Tech Teen Center: 2439 East 55th Street, Cleveland
Franklin D. Roosevelt Academy: 800 Linn Dr, Cleveland
A.B. Hart Elementary: 3900 East 75th Street, Cleveland
Westside: 3389 Fulton Road, Cleveland
Garfield Heights High School: 4900 Turney Rd, Cleveland
Shoreview Elementary: 490 East 260th Street, Euclid
Questions? Contact Sandra DelValle at
Lorain County
Desich Family Campus: 4111 Pearl Ave., Lorain
Elyria South: 1821 Middle Ave., Elyria
Westview Terrace: 2218 W. 24th St., Lorain
General Johnnie Wilson Middle School: 2700 Washington Ave., Lorain
Clearview Vincent Elementary School: 2303 N. Ridge Rd. E, Lorain
Elyria Westwood: 42350 Adelbert Street, Elyria
Admiral King High School: 720 Washington Avenue, Lorain
Stevan Dohanos Elementary: 1625 East 32nd Street, Lorain
McCormick Middle: 627 North Main Street, Wellington
Brookside Intermediate: 1812 Harris Road, Sheffield
Longfellow Middle School: 305 Louisiana Ave., Lorain
Toni Morrison Elementary: 1830 W. 40th Street, Lorain
Ely Elementary School: 312 Gulf Road, Elyria
Questions? Contact Rick Dimacchia at
Summit County
LeBron James Clubhouse: 825 Fuller Street, Akron
Steve Wise Club: 889 Jonathan Ave., Akron
Barberton Primary School: 1151 Shannon Ave., Barberton
Lincoln Elementary: 3131 W. Bailey Rd, Cuyahoga Falls
Helen Arnold: 450 Vernon Odom Blvd., Akron
Buchtel: 1040 Copley Road, Akron
Questions? Contact Aretha Valentin at
Erie County
The Regional Center for Arts & Academic Studies: 125 East Adams Street, Sandusky
Erie Teen Center: 2112 Cleveland Road, Sandusky
Vermilion High School: 1250 Sanford Street, Vermilion
Questions? Contact Jerome Johnson at
Huron County
New London Elementary: 425 Park Ave, New London
Pleasant Elementary School: 16 South Pleasant Street, Norwalk  (opens July 5)
Questions? Contact Rick Dimacchia at

Sister Club locations
Scioto County
South Central Ohio Educational Services Center: 522 Glenwood Ave., New Boston
Portsmouth High School: 1225 Gallia Street, Portsmouth