Our story
Stronger together: four Clubs merge to serve more kids in more places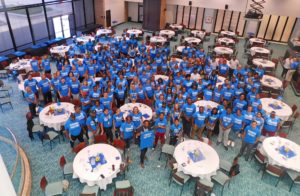 Boys & Girls Clubs of Northeast Ohio was formed in July 2019 by the merger of Clubs in Cleveland, the Western Reserve (Greater Akron), Lorain County and Erie County. The merger, one of the largest of its type in the nation, positioned BGCNEO to serve more kids in more places.
BGCNEO is governed by a board with representatives from all four merging Clubs and others chosen at large from throughout the region. The boards from the merging Clubs shifted into an advisory role in which members focus primarily on strategy, community needs and championing the mission.
Two BGCC subsidiaries also joined BGCNEO under the merger and retained their existing board structures. They are Cleveland Peacemakers Alliance, which works to stem violence in the city, and Open Tone Music, which provides music, art, dance and theater programming for kids.
Boys & Girls Clubs of America has been encouraging mergers throughout the country in order to boost membership, standardize programming and bolster the financial standing of individual Clubs. A study of Clubs that have merged showed those organizations saw a 21 percent increase in the number of youth served and a 29 percent increase in total revenue over a five-year period.
Boys & Girls Clubs provide safe, fun places for kids ages 6-18 to go after school. The Clubs focus on academic achievement, healthy lifestyles and character development. The Clubs' youth development professionals provide programming that includes arts, athletics and homework help.
A brief history of the Clubs that merged
Boys & Girls Clubs of Cleveland: In 1954, the first Boys Club opened on Broadway Avenue in Cleveland's Slavic Village neighborhood. It was established by a group of corporate executives from Republic Steel (now ArcelorMittal) and Cliffs Natural Resources. The second Cleveland Club opened in the Mount Pleasant Neighborhood in 1972. In 1976, the Boys Clubs of Cleveland took a step that earned it distinction as a national thought leader. It began to accept girls as members and became the Boys & Girls Clubs of Cleveland. This progressive step occurred a full 14 years before the national organization became the Boys & Girls Clubs of America.
Boys & Girls Clubs of the Western Reserve: Boys & Girls Clubs of the Western Reserve has a unique place in the history of the Boys & Girls Clubs movement. The organization began in 1984 as the Boys & Girls Club of Summit County and was one of three selected urban sites participating in a national demonstration project to test the feasibility of bringing Club programs into low-income housing areas designated by Boys Clubs of America and the U.S. Department of Housing and Urban Development. The program was a success and there are more than 400 Clubs in housing projects across the country.
Boys & Girls Clubs of Lorain County: Boys & Girls Clubs of Lorain County has been serving the community's youth since 1999, when current Executive Director Mike Conibear transformed a small space within an Oberlin city school building into a Club for kids. Since then, the organization has expanded to become one of the largest youth-serving agencies in the Northeast Ohio.
Boys & Girls Club of Erie County: In 1998, Boys & Girls Club of Erie County began as a project of Leadership Erie County, a nonprofit, service-oriented organization that prepares civic-minded individuals through training to serve their communities. The group decided that an after-school program for youth was needed in the community and began researching the Boys & Girls Club of America On July 4, 1998, the Boys & Girls Club of Erie County was established and opened its doors at the First United Congregational Church of Christ. In 2010, the late Ruth F. Parker suggested BGCEC use her property on Cleveland Road to open a teen center; she later donated the building to the Club.