Character and citizenship
We help our kids help their neighborhoods, families and fellow citizens.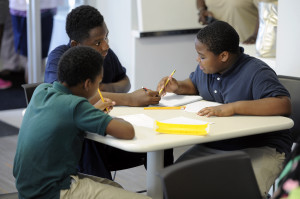 Our Character and Citizenship programs encourage service to the Club and community, promote respect for self and others and build leadership skills. Youths following this path are less likely to fail, get suspended, drop out of school or get involved with the police – and are more likely to continue their education beyond high school. BGCNEO's Character and Citizenship programs include:
Keystone Club, a community service and leadership development program that equips adolescents with the skills to become agents of positive change in their own lives, Clubs and communities.
Torch Club, a small-group club offering character development plus service and leadership opportunities to young people ages 11-13.
Youth of the Year.  Local branches recognize members ages 14-18 as finalists for BGCNEO's Youth of the Year. The regional winner moves on to state competition. Winners receive scholarship funds for higher education.
SMART Leaders, which provides our members with knowledge, skills, self-esteem, and peer support to help them avoid negative situations.
Our programs foster character development, healthy interpersonal relationships and develop young leaders who contribute to their communities.