Join a Club
Afterschool programming is available across the region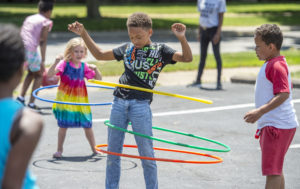 We are now accepting membership signups for sites across our region. There is no charge to join a Club. To sign up your child, click on this registration link, choose 'Need a login?' at the bottom of the screen and set up your account. Once you've done that, you will receive a confirmation email.
Then select Browse Membership, select ALL CLUBS and select your county. It will list all available sites. Select the correct site. You can then create a new contact, which is the information about the child. You can add more contacts if you are registering more than one child.
Already have a child at the site? You can still set up an account but make sure you use the same email that is on file. Then when you login there will be a link to your child or children.
BGCNEO serves kids ages 6-18. Check with your local Club for its member age ranges and operating hours.
Club Locations:
Click here for a map view of all Club locations.
Cuyahoga County
Broadway Club: 6114 Broadway Ave. Cleveland
Saint Luke's Club: 2705 Martin Luther King Jr. Drive, Cleveland
King Kennedy Club: 2561 E. 59th Street, Cleveland
Stepstone Academy: 3328 Carnegie Ave., Cleveland
East Tech Teen Center: 2439 East 55th Street, Cleveland
Mound School: 5935 Ackley Road, Cleveland
Bolton: 9803 Quebec Avenue, Cleveland
Joseph Gallagher: 4016 Woodbine Ave., Cleveland (temporary location for school)
William C. Bryant School: 3121 Oak Park Drive, Cleveland
Marion C. Seltzer School: 1468 W. 98th Street, Cleveland
Franklin D. Roosevelt Academy: 800 Linn Dr, Cleveland
New Tech West: 11801 Worthington Ave, Cleveland
John Adams: 3817 Martin Luther King Jr Dr, Cleveland
Garfield Elmwood: 5275 Turney Rd., Garfield Hts.
Miles Park: 4090 E. 93rd St., Cleveland
 Garfield Maple Leaf: 5764 Turney Rd., Garfield Hts.
Questions? Contact Sandra DelValle at
Lorain County
Desich Family Campus: 4111 Pearl Ave., Lorain
Elyria South: 1821 Middle Ave., Elyria
Westview Terrace: 2218 W. 24th St., Lorain
General Johnnie Wilson Middle School: 2700 Washington Ave., Lorain
Clearview Vincent Elementary School: 2303 N. Ridge Rd. E, Lorain
Clearview Durling Middle School: 100 N. Ridge Rd., Lorain
Elyria Westwood: 42350 Adelbert Street, Elyria
Garfield: 200 W. 31st Street, Lorain
Larkmoor: 1201 Nebraska Avenue, Lorain
Admiral King High School: 720 Washington Avenue, Lorain
Stevan Dohanos Elementary: 1625 East 32nd Street, Lorain
Washington Elementary: 1025 W. 23rd Street, Lorain
Frank Jacinto Elementary: 2515 Marshall Avenue, Lorain
Palm Elementary: 2319 E. 34th Street, Lorain
Westwood Elementary: 305 Union St, Wellington
McCormick Middle: 627 North Main Street, Wellington
Brookside Intermediate: 1812 Harris Road, Sheffield
Knollwood Elementary: 4975 Oster Rd, Sheffield Lake
Longfellow Middle School: 305 Louisiana Ave., Lorain
Toni Morrison Elementary: 1830 W. 40th Street, Lorain
Southview: 2321 Fairless Drive, Lorain
Ely Elementary School: 312 Gulf Road, Elyria
Hawthorne: 610 W. 20th St., Lorain
Questions? Contact Rick Dimacchia at rdimacchia@bgcneo.org
Summit County
LeBron James Clubhouse: 825 Fuller Street, Akron
Steve Wise Club: 889 Jonathan Ave., Akron
Barberton Primary School: 1151 Shannon Ave., Barberton
Lincoln Elementary: 3131 W. Bailey Rd, Cuyahoga Falls
Helen Arnold: 450 Vernon Odom Blvd., Akron
Questions? Contact Aretha Valentin at
Erie County
The Regional Center for Arts & Academic Studies: 125 East Adams Street, Sandusky
Erie Teen Center: 2112 Cleveland Road, Sandusky
Sailorway Middle School: 5355 Sailorway Drive, Vermilion
Vermilion Elementary: 1285 Douglas Street, Vermilion
Sandusky Intermediate: 2020 Hayes Avenue, Sandusky
Questions? Contact Jerome Johnson at
Huron County
New London Elementary: 425 Park Ave, New London
Questions? Contact Michael Cook at
Sister Club locations
Scioto County
South Central Ohio Educational Services Center: 522 Glenwood Ave., New Boston
Portsmouth High School: 1225 Gallia Street, Portsmouth