Help celebrate a remarkable career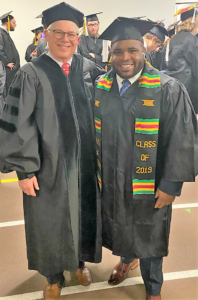 Ron Soeder's impact on the kids of Northeast Ohio cannot be overstated.
For the past 14 years, Soeder has led been the driving force behind the Boys & Girls Clubs Movement in Northeast Ohio, first as the hands-on, transformational CEO of Boys & Girls Clubs of Cleveland and then as a key facilitator of the largest-ever Boys & Girls Clubs merger in the United States. The July 2019 merger created Boys & Girls Clubs of Northeast Ohio, and Soeder served as its interim president and CEO until the appointment of Jeff Scott in March 2020.
Through it all, Ron's passion for the mission – and our kids – never waned.
Ron, who has served as BGCNEO's Cuyahoga County Regional Director for the past seven months, is retiring at the end of November. His legacy won't be defined by the titles in front of his name or the merger he oversaw. It will be about the joy and hope he brought to thousands of kids – and the tears he shed for those members of the Club family who were lost to violence.
There is Richard Starr, the at-risk teen who, with Soeder's constant encouragement, became a college graduate and the director of the very Club he credits with saving his life. Richard grew up in a family in which virtually all his male role models, including his father, went to prison.
"Ron Soeder is my father and has helped raised me as if I am his very own child," Starr said. "Ron is the ultimate role model. He is the reason why I have been able to break generational curses in my family."
Then there is Lexus, who asked Soeder to give her away at her wedding, which was held in a Club gymnasium. There is Zaylianny, to whom Soeder is a father figure; he even escorted her to the prom. There is the time Soeder attended the college commencement ceremonies for four Club alums – in the same day, at different universities. And there was Rayshawn Armstrong, a 25-year-old Club staff member who Ron described as "a light in our community, a beacon" before he was shot to death. For years, he would fight back tears while talking about Rayshawn.
Ron Soeder helped transform the organization into a powerful, life-enhancing force for young people in this community through his dynamic leadership and passion. When he joined BGCC, 35 employees serving 450 kids a day at five sites. At the time of the 2019 merger, the Cleveland Clubs had about 100 employees and were serving about 1,000 kids a day at 13 sites.
Ron forged strong partnerships with a wide range of organizations, including the Cleveland Municipal School District, neighborhood groups, local governments, companies, professional sports teams and the arts community.
Throughout his tenure with Boys & Girls Clubs, he has masterfully juggled all the tasks needed to fulfill the organization's mission. Even today, it is not uncommon to see him picking up trash outside the Club at 8 a.m., calling a high-profile CEO a short while later and then touching base with a recent Club alumnus who is away from home for the first time at college.
Ron Soeder always makes time for the kids. It is why he is special. Thanks, Ron.
A special fund benefitting our kids has been set up in honor of Ron Soeder. To find out more or to make a contribution, click here.