Welcome to the Cyber Club!
Follow along in order or mix it up!
Welcome
Arts
Activity #3: Mask Making: The Drawstring: Part 2– Create a mask with a rectangle cut to keep you safe.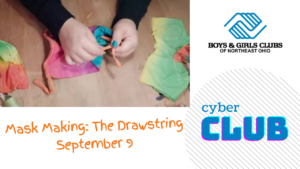 Education
Web Game Wednesday

Activity 1: Make A Mask— Let your creativity soar and make your very own virtual mask with ABCya's Make-a-Mask game.

Activity #2: School Bus Pick-Up— School Bus Pickup is a fun route planning game for kids! Help the children get to their destinations by carefully planning the bus routes.  

Activity #3: All About Me— All About Me is a great first day of school activity! 
Character and Citizenship
Activity #1: How to Be Successful– This video from teen to teen details the steps that need to be in place to maintain a successful virtual school year.  
Activity #2: Safety Tips– Join Mr. Delk as he talks about ways to be safe in the kitchen. 
Want to show us your mask designs, school bus routes, or say "hey" to your friends at the Club? 
Post on social using the hashtag #bgcneoCyberClub!