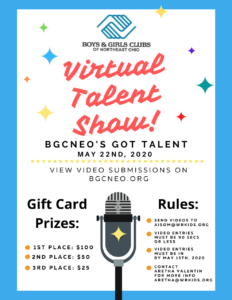 Welcome to the Cyber Club!
Follow along in order or mix it up!
Welcome
Fun Fact Tuesday
Cranberries are sorted for ripeness by bouncing them; a fully ripened cranberry can be dribble like a basketball.
Apples float in water because 25 percent of their volume is made of air.
Fitness
Arts & Science
Education
Reading: 'Frindle' — Chapters 10-12
Knowledge Hour: Take this time to work on your packets from school.
Activity: Tour the International Space Station. After watching the video, answer these questions:

If you were an Astronaut what would you enjoy most?
If you were aloud to bring one person in space with you, who would it be?
Character & Citizenship
'Mo's Bows' — For this week's Empowerment Tuesday video, check out this example of becoming your own boss. After a sewing lesson from his grandmother, Moziah quickly realized he could turn his love for fashion into his own business. Take a look at this young CEO as he tells his story of getting started.
'Empowering Latina Women Through STEM & Leadership' — Future engineer Gina Moreno talks about the importance of more young Latina women entering the science and technology field.
Want to share your spider craft or your space station activity answers?
Post on social using the hashtag #bgcneoCyberClub!