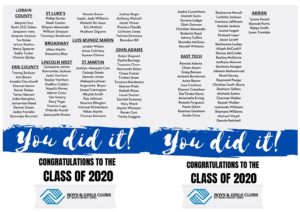 Welcome to the Cyber Club!
Follow along in order or mix it up!
Welcome
Class of 2020
Fitness
Arts
Cadets
Games Room
Activity #1: Chopstix/Pencil in a Bottle Race

Instructions— Members will use their faces to carry pencils from one place to the next and place them in a bottle without using their hands.

Activity #2: Forehead Coin Stack

Instructions— Members will see how may coins they can stack on their foreheads.

Activity #3: Spoon Ball Race

Instructions— Members will race to the goal carrying a ball or sock on the spoon while holding the spoon in their mouth. 
Education
Knowledge Hour: Take this time to work on your packets from school and engage in today's session of Knowledge Hour!
Activity #1: Typing Skills— Enjoy a fun and interactive way to increase your typing speed and accuracy!
Activity #2: Scavenger Hunt

Instructions— Get up & moving with your sibling or parent and enjoy this indoor scavenger hunt! Share what you find using the hashtag #bgcneocyberclub !
Activity #3: Static Electricity with Bill Nye— It happens to all of us. You're causally walking along, maybe dragging your feet a little, when you reach out to shake a friend's hand and – ZAP! Both you and your friend get shocked. The spark is static electricity, a buildup of charged electrons. Watch this video and write down 3 things you found interesting!
Activity #4: Field Trip Friday to the San Diego Zoo— Watch live cameras and explore the animals of the San Diego Zoo!
Teens
Activity #1: TGIF Journal: Summary of Your Week— Take time to write down five separate paragraphs/entries detailing how each day of your week went. This is a great way to reflect on things before you start your weekend.
Activity #2: SMART Girls

SMART Girls Video— Watch this clip of poet Britta B as she performs her poem titled 'Dear Young Woman', we hope you enjoy it.

Activity #3: Memes of the Week– Check out some funny memes we found online this week!

Activity #4: Friday Footwork

Friday Footwork Video— Check out today's dance challenges and see if you can keep up, we threw in a new line dance for you to try this week. Post your moves at #bgcneoCyberClub
Character & Citizenship
Want to show us your bubble wand, scavenger hunt, or Friday Footwork 
Post on social using the hashtag #bgcneoCyberClub!