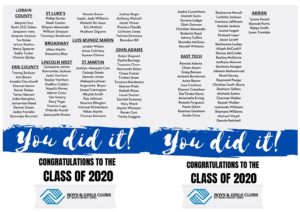 Welcome to the Cyber Club!
Follow along in order or mix it up!
Welcome
Class of 2020
Fitness
Arts
Cadets
The Letter of the week is 'H'.  Here are the two games starting with the letter "H".  Take a look below!
Activity #1: Hopscotch— Remember social distancing but grab a couple of family member or friends and challenge them to a friendly game of hopscotch! 
Activity #2: Basketball game "Horse"
Games Room
Activity #1: Freeze Tag— The object of the game is to not get frozen by the person who is it.
Activity #2: Speed Card Game– Kids will learn how to play the card game speed
Activity #3: Virtual Field Trip— Club members will go on a virtual field trip to the place of their choice.
Education
Teach It Tuesdays

Activity #1:Brain blast! Let us see if you're up for the challenge to try saying these tongue twisters 3 times fast! This week we will start off with some simple ones.

I scream, you scream, we all scream, for ice cream!
She sells seashells by the seashore
Chester cheetah chews a chunk of cheap cheddar cheese

Activity #2: Compare & Contrast— What does it mean to compare and contrast? In today's video, we are going to learn what that means, why it is important and how is it relevant in our everyday lives?

Activity of the Day: This or That- Your room of your choosing will be split into 3 parts. Your goal is to walk to the correct side of the room that fits the description that your partner is saying! For example, one side of the room is fruits and the other is vegetables. If your partner was to say" lettuce" you would choose to walk to the side of the 

room that is either fruit, vegetable, or

 walk in the middle if it fits for both! You are basically a human Venn diagram! Down below will be an example of one.

1.       Winter vs summer

2.       Author vs illustrator

3.       Books vs movies

4.       McDonalds vs Burger King

5.       Friends vs Family
Teens
Activity #1: Financial Literacy Tip of the Week Intro

Financial Literacy Video— WNBA Champion, MVP, 4x All-Star and trailblazer in business. Nneka Ogwumike truly does it all on and off the court with hoops and business.

Activity #2: Entrepreneur Spotlight -Become a Boss— Have you ever wanted to make more money while in school? Today's special guest Pete will share some of his entrepreneur tips and tricks for making $40,000 while in school
Activity #3: Minute to Win It – Game of the Week Intro

Instructions— Are you familiar with Tic-Tac-Toe? I'm pretty sure you are, it is a classic! Let's see if you have ever played this way. You can play one on one or with multiple people. All you need is some tape, plastic cups (two different colors), some good music, and you are all good to go.
Character & Citizenship
Want to show us your texture collaging, leaf rubbing, or venn diagram? 
Post on social using the hashtag #bgcneoCyberClub!