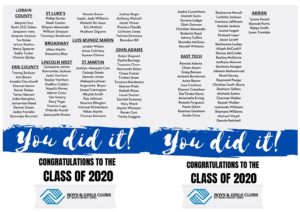 Welcome to the Cyber Club!
Follow along in order or mix it up!
Welcome
Class of 2020
Fitness
Arts
Cadets
Games Room
Activity #1:Paper Plate Letters
Education
Knowledge Hour: Take this time to work on your packets from school.
Activity #1: The Brain with Bill Nye— Your brain is working right now. You're using it to understand the words you're seeing and hearing. Did you know that the left side of your brain controls the right side of your body? Watch this video and write down 3 things you found interesting!
Activity #2: Ice Balloons— Create your own Frozen Balloon Rivers with a frozen water balloon and explore some of the beauty of science. 
Teens
Activity #1: TGIF Journal: Summary of Your Week— Take time to write down five separate paragraphs/entries detailing how each day of your week went. This is a great way to reflect on things before you start your weekend.
Activity #2: SMART Girls Intro

SMART Girls Video— Ladies, check out this awesome video about Women Empowerment. Take this motivation into your weekend knowing you can do anything. 

Activity #3: Memes of the Week– Check out some funny memes we found online this week!

Character & Citizenship
Want to show us your brain facts, Straw Pan Flute, or ice balloon? 
Post on social using the hashtag #bgcneoCyberClub!