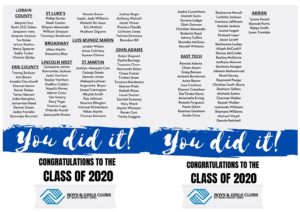 Welcome to the Cyber Club!
Follow along in order or mix it up!
Welcome
Class of 2020
Fitness
Arts
Cadets
Activity #1: Wash Your Hands— Here is a video on how important to keep up with washing your hands and staying home. 
Activity #2: Make a Facemask— Here is a video of how to make your own facemask from one of our club members!  First, ask a parent/guardian if you can cut up a cotton sock.
Games Room
Education
Teens
Activity #1: Pathway to Manhood— Fellas, check out these helpful strategies about what to wear to a job interview. Remember first impressions are very impactful and it's important to be prepared.
Activity #2: Lifestyle Vlog : "The 6 Feet Away Talk Show "— Follow Earl and Taylaura as they travel around to different locations in Northeast Ohio, finding out what people have been up to during their quarantine.
Activity #3: Fitness /Athletics–– Join UA Trainer Monica Jones as she takes you through this boxing-inspired workout you can do at home with no equipment. Grab a book bag or weighted item from home and let's get started!
Activity #4: Lessons from Kobe Bryant— Watch as NBA legend Kobe Bryant gives you a detailed guide on how to become an effective scorer and the proper way to read a defender.
Character & Citizenship
Want to show us your Minute to Win It Challenge, Character Traits, or idea for a lemonade stand? 
Post on social using the hashtag #bgcneoCyberClub!