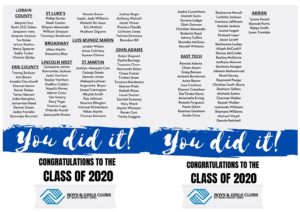 Welcome to the Cyber Club!
Follow along in order or mix it up!
Welcome
Class of 2020
Fitness
Arts
Cadets
Activity: Counting Skills- Practice those counting skills by refreshing your money counting skills!
Games Room
Education
Knowledge Hour: Take this time to work on your packets from school.
Activity #1: Character Traits —  Learn about what what a character trait is!  This videos gives  examples of the kind of traits used to describe characters such as outside (physical traits) and inside (personality traits).
Activity #2: Character Trait Chart— Now knowing what character traits is, grab a piece of paper and draw either yourself or someone in your family and provide both 4 outside and inside traits of that person Check out this list of different traits you can use for your activity!
Teens
Activity #1: Financial Literacy Tip of the Week—In today's financial literacy tip, we learn about the importance of compound interest. Getting started with investing early can really pay off big in the long run.
Activity #2: Entrepreneur Spotlight -Become a Boss—  At just 15 years old Drew Francois helped her mother launch their bakery business called "The Cupcake Collection". The business is booming and worth over $10 million dollars today, listen in for some words of wisdom.
Activity #3: Minute to Win It Challenge– Grab your favorite cookie and see if you can come out on top during this week's challenge. This game is great because you can eat all the game pieces!!!
Activity #3: Emoji Movie Game:Trivia Challenge—  Can you guess the Disney movie by the emoji's given? Let's find out.
Character & Citizenship
Want to show us your Minute to Win It Challenge, Character Traits, or idea for a lemonade stand? 
Post on social using the hashtag #bgcneoCyberClub!