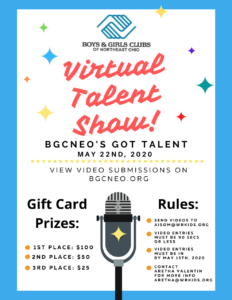 Welcome to the Cyber Club!
Follow along in order or mix it up!
Welcome
Fitness
Arts & Science
Education
Character & Citizenship
Inspirational Video: (Darrius Simmons) —Ellen welcomed 19-year-old Darrius, who was born with four fingers and has prosthetic legs. He talked about his journey and how it led him to Berklee College of Music.
Inspirational Video #2: A Bag of Chips (Ja Morant)— Listen to the story of how a bag of chips helped Ja Morant make it all the way to the NBA. Hopefully we get a chance to see the rest of his incredible rookie year, once the NBA returns this season.
Want to share your favorite activity from the week or want to say hey to your friends at the Club?
Post on social using the hashtag #bgcneoCyberClub!