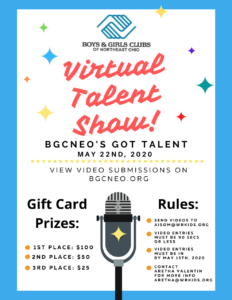 Welcome to the Cyber Club!
Follow along in order or mix it up!
Welcome
Fun Fact Tuesday
Orange foods like oranges, carrots, and sweet potatoes help keep your eyes healthy.
One of the most hydrating foods you can eat is the cucumber, which is 96% water.
Fitness
Arts & Science
Education
Reading: 'Frindle' — Chapters 13-15
Knowledge Hour: Take this time to work on your packets from school.
Activity:  Optical Illusions — In this challenge, students will develop their understanding of optical illusions and explore how to create illusions like those in "The Writing's On the Wall" music video by making a geometric shape inside of a shoebox. 
Character & Citizenship
'iCode Robotics' — For this week's Empowerment Tuesday video, check out this example of becoming your own boss. Callum Daniel is the CEO of iCode Robotics and is an amazing builder. Take a look at how he got his start and the giant robot that gave him his big idea.
Inspirational Video (Ezra French) — Ezra French shares how he uses sports as a way to express his emotions and connect with his friends. He doesn't let anything get in his way from being positive and healthy.
Want to share your optical illusion craft or say "hey" to your friends at the club?
Post on social using the hashtag #bgcneoCyberClub!