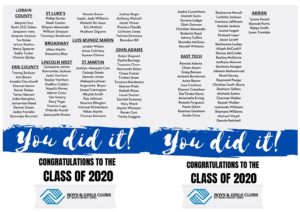 Welcome to the Cyber Club!
Follow along in order or mix it up!
Welcome
Word of the Week: POLLINATION! The process that allows plants to reproduce and make more plants. To learn more about this process, check out Go Wild Adventure Club this week!
Class of 2020
Fitness
Arts
Cadets
Education
Activity #1: Go Wild Adventure Club— Extend your adventure with pollinators. Let's Explore Morgana Bluffs Nature Preserve to find some Pollinators!
Activity #2: Vitamin Bee: "Pollination"—

Learn more about the word of the week, Pollination, by watching our pollenating friends!

Activity #3: Fun Facts about Pollen— Teens Advance your learning: Did You Know Facts of the Day?
Activity #4: Moments in Love (With Nature): "The Beauty of Pollination"– Relax and watch some live art using nature and the process of pollination!
Teens
Activity #1: College Spotlight- Bethune Cookman University

Information— Check out this cook video about how on October 3, 1904, a very determined young black woman, Mary McLeod Bethune, opened the Daytona Literary and Industrial Training School for Negro Girls. She did this with $1.50, faith in God, and five little girls: Lena, Lucille, and Ruth Warren, Anna Geiger, and Celest Jackson.

Activity #2: Self-Care Tip of the Week

Self Care Tip of the Week—  Improve your attitude, improve your life! Check out these top ten tips to help you build and maintain a positive mental attitude. 

Activity #3: STEM Activity

Instructions— This experiment is absolutely awesome and a great way to learn a few tricks. This is a safe and fun science experiment you can do at home. 
Character & Citizenship
Want to show us your Claude Monet projects, playdoh garden, or birdhouse? 
Post on social using the hashtag #bgcneoCyberClub!