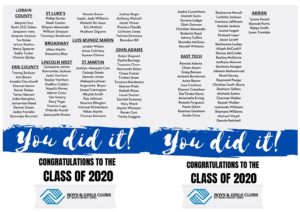 Welcome to the Cyber Club!
Follow along in order or mix it up!
Welcome
Quote of the Day:

"Before you can be anything, you have to be yourself" E.L. Konigsburg
Class of 2020
Fitness
Activity #1: Water Bottle Fitness Challenge— All you will need to perform this exercise is a water bottle. The exercise is presented by Mr. Lucas with

ThePEglobe

.
Activity #2: Crab Walk Relay Challenge— This is going to work on your upper and lower body strength and endurance. All you will need for this workout are cones, a basket, low to the ground items (socks, books, shoes, etc. ), and small toys or socks. If you don't have any cones or baskets then you can use shoes as your cones and a cardboard box as your basket. This workout is presented by Coach

Gelardi

.
Arts
Cadets
Games Room
Activity #1: Virtual Field Trip— Club members will go on a virtual field trip to the place of their choice.
Activity #2:  Rock Painting— Members will learn how to paint rocks in cool designs.
Education
Knowledge Hour: "Take this time to engage in today's session of Knowledge Hour!"

Message from Ms. Gwen: "Keep on keeping up with your homework. You will be glad you did!"

Activity #1: Story Time: 'I Don't Want to Be a Frog' by Dev Petty

What did we learn about wanting to be someone other than yourself?

Activity #2: Kitchen Math
Teens
Activity #1: Life Hacks

Life Hacks— Check out this quick tutorial on how to fix a stuck/broken zipper, these techniques can be a lifesaver the next time this aggravating situation arises.

Activity #2: SMART Leaders

SMART Leaders Video—  Motivational speaker Jeremy Anderson talks to a group of students about the importance of not listening to negative influences, and appreciating your support system.

Activity #3: Safety Tip of the Week-Emotionally Abusive Relationships

Safety Tip of the Week Video— Listen to these informative steps, which can help you identify if you're in an emotionally abusive relationship. Remember to seek help if needed and reach out to a responsible adult with questions you may have.

Activity #4: Taste of Thursday Cooking Segment

Intro and Cooking Segment– Check out our weekly cooking vlog to find out how to make quick and easy recipes you can enjoy with your family. Post your results at #bgcneoCyberClub and remember to practice safety at all times

Activity #5: Throwback Thursday! Check out this throwback picture of Mrs. Taylaura, she works at the St. Martin de 

Porres

 Club in Cleveland.
Activity #6: Throwback Thursday Video- Sonic the Hedgehog
Character & Citizenship
Activity #1: Social Emotional Learning Video Lessons— In this video, we learn about self-management. What is self-management and how can we do it? Come along as we learn what we can do protect ourselves from stress and ensure we have a great day, every day!
Activity #2: Keeping Calm: Building Resilience with Hunter and Eve— In this video Eve teaches Hunter how to calm down with a unique breathing exercise.  
Activity #3: Take 5 Breathing: A Breathing Exercise for Kids— Using just your hands, find a cool way to take deep breaths that can relax and calm you in any situation.
Activity #4: Rainbow Breath— This is an excellent video to start your day with. It is a full four minutes of guided breathing. You'll feel amazing after. You can even try it with your eyes closed
Want to show us your Taste of Thursday Treat, DIY lizard beads, or your chorus of 'That's What Friends are For '? 
Post on social using the hashtag #bgcneoCyberClub!