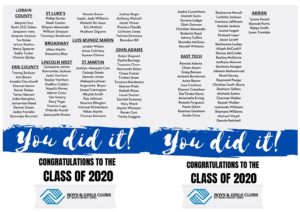 Welcome to the Cyber Club!
Follow along in order or mix it up!
Class of 2020
Fitness
Arts
Cadets
Activity #1: Fitness Friday— Try these FUN 10 min. Workout that is sure to burn off energy and build strength at the same time.  Let's get FIT! 
Education
Activity #1: Career Launch: Interview with a Nurse— What does being a nurse consists of? What is the most challenging aspect of being a nurse in your opinion? What is one piece of advice for someone considering becoming and nurse?
Activity #2: Facts About Being/ Becoming A Nurse— Are you interested in the nursing field? Check out this video to learn some interesting facts about nursing that will hopefully spark your interest!
Activity #3: National geographic: Science Lab— Watch how energy and force creates motion art.
Teens
Activity #1: TGIF Journal: Summary of Your Week– Take time to write down five separate paragraphs/entries detailing how each day of your week went. This is a great way to reflect on things before you start your weekend.
Activity #2: SMART Girls— Part 2 of a 3 part series to explain self-esteem to teen leaders and young adults.
Activity #3: Friday Footwork— This is my Friday mood!
Character & Citizenship
Activity #1: Be Unique— Nelisiwe tells her inspiring story of being unique and loving the way you are, even with flaws!
Activity #2: Diversity and Inclusion— Listen as Maryam explains how she advocated for her belief and shows kindness and acceptance to people who are different than her. 
Activity #3:

Think of two friends and write down 5 things about them. Think of 5 things about yourself. Compare how your 5 things and your friends 5 things may be different in some areas and similar in others. We all share similarities and differences; we just have to respect each other's differences.
Want to show us your bird feeder, chair exercises, or Friday Footwork ?
Post on social using the hashtag #bgcneoCyberClub!