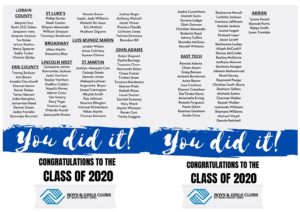 Welcome to the Cyber Club!
Follow along in order or mix it up!
Welcome
Class of 2020
Fitness
Arts
Cadets
Activity #1: Story Time— 'The Mixed-up Chameleon'
Activity #3: Peanut Butter Cereal Bites— These peanut butter cereal bites are so easy and very delicious. They're a great breakfast to grab on the run with only 4 ingredients!
Education
Activity #1: The Story of Anne Frank— An educational video briefly teaching about the story of Anne Frank.
Activity #2: Virtual Tour– Take a virtual look at the home where Anne Frank hid for more than two years during World War II.
Activity #3: Social Emotional Learning: Decision Making— Decision making is a child's approach to problem solving that involves learning from others and her/his own previous experiences. Learn how to make good decisions using the stop light method! Stop, Breathe, Make a Choice.
Teens
Activity #1: Throwback Thursday Picture: The First-Ever Mobile Phone– Motorola DynaTAC 8000X. The handset offered 30 minutes of talk-time, six hours standby, and could store 30 phone numbers. 
Character and Citizenship
Activity #1: Boomerang Song— Listen to this catchy song about learning to bounce back and build resiliency!
Activity #2: Famous Failures— Watch this short clip of some very famous people who failed before they succeeded. Sometimes life may knock us down, but if you continue to fight for what you want, you can succeed.
Want to show us your Taste of Thursday treat, Pop Bottle Lady Bugs, or Happy Feet Moves? 
Post on social using the hashtag #bgcneoCyberClub!