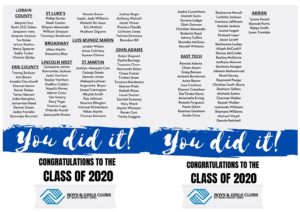 Welcome to the Cyber Club!
Follow along in order or mix it up!
Welcome
Riddle: What has hands, but doesn't clap? Come back next week for the answer to today's riddle! 

Answer to Yesterday's Riddle: The Letter "M"
Class of 2020
Fitness
Arts
Cadets
Activity #1: Fitness Friday Part 1— Here is a clip about factual reasons you should get moving.
Activity #2: Fitness Friday Part 2— Check out this fun all sports fitness workout routine. Don't forget to drink plenty of water!
Education
Teens
Activity #1: TGIF Journal: Summary of Your Week– Take time to write down five separate paragraphs/entries detailing how each day of your week went. This is a great way to reflect on things before you start your weekend.
Activity #2: SMART Girls: Self Esteem and Your Brain Part 3— Part 3 of a 3 Part series to explain self-esteem to teen leaders and young adults.
Activity #3: Friday Footwork: Tik Tok Work Out
Character & Citizenship
Want to show us your jar decoration, cardboard drum, or Friday Footwork ?
Post on social using the hashtag #bgcneoCyberClub!