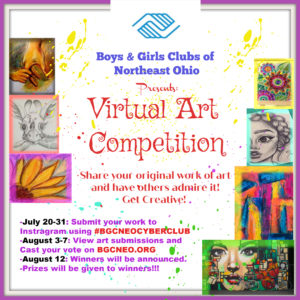 Welcome to the Cyber Club!
Follow along in order or mix it up!
Welcome
Fun Facts

Pineapples takes 2 years to grow.
Strawberries are the only fruit whose seed grows on the outside.
Fitness
Daily Fitness Challenge #1: Healthy Fast Food— F

or this video Kapree will take a trip to a healthy fast food location and tell about two menu items she

 gets and why they are beneficial for your health. 
Arts
Cadets
Education
Teens
Character and Citizenship
Want to show us your pencil creatures, earth warriors in your yard, sleek back ponytail? 
Post on social using the hashtag #bgcneoCyberClub!