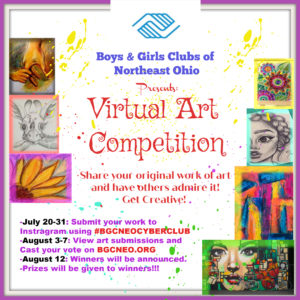 Welcome to the Cyber Club!
Follow along in order or mix it up!
Welcome
Riddle: What can you catch but cannot throw?

Answer to Yesterday's Riddle: A sponge

Facts for the Week

Today is National Cousins Day
July 26th is National Parents and National Aunt & Uncle Day
Fitness
Daily Fitness Challenge #1: Fitness Simon Says– Play fitness Simon Says with friends using the sheet of workout ideas or create your own workouts and play.
Daily Fitness Challenge #2: Clock Warm Up– Use a push pin and paper clip or even a pencil to use as a spinner for this activity. Place the spinner on the printout and take turns spinning with family and friends and complete the workout the spinner lands on, on each turn.
Daily Fitness Challenge #3: Fitness Monopoly– Roll a dice or pull numbers 1-6 from a hat and go to the appropriate space. Wherever you land you must complete the workout listed on that space. 
Arts
Cadets
We have a few fun games called Icebergs, Volcanos and Ice Creams, and Fruit Salad, these games require a few friends or family members to play. Check them out below and have FUN!
Education
Activity #1: Math Challenge: Area & Perimeter— Let's take a look at this quick lesson in determining area and perimeter.
Activity #2: Let's Play A Game— Practice identifying the area and perimeter with this online game!
Activity #3: Put It Into Practice– Use some graph paper and make some cool drawings. Then, have your sibling or parent work with you to determine the area and perimeter!
Teens
Character & Citizenship
Want to show us your mosaic butterfly,area and perimeter drawings, or say "hey" to your friends at the Club ?
Post on social using the hashtag #bgcneoCyberClub!