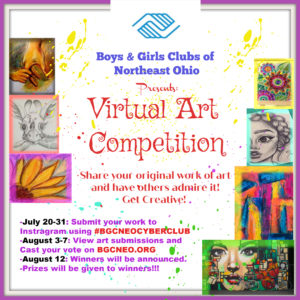 Welcome to the Cyber Club!
Follow along in order or mix it up!
Welcome
Riddle: What is full of holes but still holds water?

Answer to last Friday's riddle: A Stamp
Fitness
Arts
Cadets
Activity #1: Cheesecake Bites– Learn to cook this yummy treat with Ms. Aretha! 
Activity #2: Drawing Challenge— Learn how to draw heart hands…a be kind to everyone art activity. 
Activity #3: Face Mask Drawing— As we are all trying to live with COVID-19 let's keep one another safe by wearing our mask. Check out the link  on how to draw kids wearing a face mask.
Education
Cultural Exploration: Paris
Teens
Activity #1: Throwback Thursday Video: Check out this cool clip from the Movie like Mike. This movie came out in 2002, and was a huge hit in the early 2000's
Activity #2: Tips and Tricks—  Check out these cool, easy ways on how to iron clothes without using an actual iron.
Activity #3: Safety Tip of the Week: How to properly wash your hands.
Character and Citizenship
Activity #1: Responsibility Song— We all have responsibilities that aren't always fun, but we have to do them for ourselves and others.
Activity #2: What If Everybody Did That?— Sometimes we break a rule without thinking about it, but what if everyone did it? Listen along to this book about having respect for our surroundings.
Want to show us your riddle answer, face mask drawing, or say "hey" to your friends at the Club? 
Post on social using the hashtag #bgcneoCyberClub!