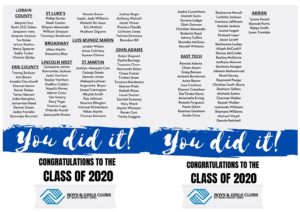 Welcome to the Cyber Club!
Follow along in order or mix it up!
Welcome
Riddle: What happens once in a lifetime, twice in a moment, but NEVER in one hundred years? Come back tomorrow for the answer and another riddle.
Class of 2020
Fitness
Arts
Cadets
Activity #1: Snack Time—  Here is a recipe for 'The Very Hungry Caterpillar' story we read on Monday.  Just a few simple steps and ingredients is all you need.  Enjoy!
Activity #2: Making a Caterpillar— Learn how to use material around the house to make a caterpillar.
Activity #3: Art Activity— Learn to draw the cover page of the book 'The Very Hungry Caterpillar'.
Education
Activity #1: Ghost  Glove– Let's try this cool experiment together! Watch how vinegar and baking soda create a gas.  Check out national geographic to find this experiment and more! 
Activity #2: 5 Senses: Hearing– Learn educational facts about the ear & hearing.
Activity #3: Guess The Sound Game
Activity #4: Decision Making Process Part II— Let's review the 6 step Decision Making Process from last week
Activity #5: Decision Making Scenarios— Now, let's try some scenarios together. What would you do?
Teens
Activity #1: Throwback Thursday Picture: Pastry was founded in 2007 by celebrity fashionistas Vanessa and Angela Simmons
Activity #2: Life Hacks: Keeping Phone Chargers and Earphones from Breaking— Check out this quick tutorial on how to keep your phone chargers and earphone cords from tearing.
Activity #2: Safety Tip of the Week: Social Distancing– Let's continue to practice social distancing, when you are out and about please wear your mask. COVID-19 is still a thing, and it's still in full effect.
Character and Citizenship
Activity #1: Overcoming Obstacles— When faced with a bump in the road sometimes we forget we have a choice: overcome the obstacle, or let it overcome you.
Activity #2: Overcoming Failure— Everyone fails in life, but what matters is how you come back from failure!
Activity #3: A Cloudy Lesson— Sometimes we make mistakes but learning how to bounce back and be creative in solutions makes a world of a difference.
Want to show us your fidget spinner, caterpillar drawing, or say "hey" to your friends at the Club? 
Post on social using the hashtag #bgcneoCyberClub!