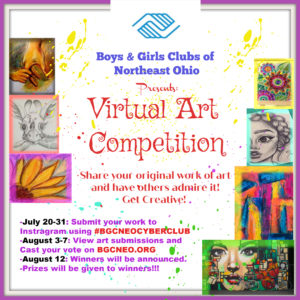 Welcome to the Cyber Club!
Follow along in order or mix it up!
Welcome
Riddle: What travels around the world but stays in one spot?

Answer to Yesterday's Riddle: your age

Fun Fact of the Day: Today is world emoji day!
Fitness
Arts
Cadets
Activity #1: Fitness Friday— Dance moves are a great way to work-out!  Check out these amazing steps from Ghana. 
Education
Social Emotional Learning: Optimistic Thinking

Activity #1: What does it mean to be optimistic?— Let's take some time to learn what optimism is so we have a better understanding on how to apply it!
Activity #2: Positive Affirmations— Practice positive self-talk; this will keep us optimistic and motivated! Check out my positive self-talk tips!!
Activity #3: Share with us using the hashtag #BGCNEOCYBERCLUB your creative ways to practice optimism!
Teens
Activity #1: Friday Footwork: Renegade
Activity #2: College Spotlight– Spelman College– Check out more information at www.spelman.edu.
Character & Citizenship
Activity #1: All Kinds Of Children—  There are many differences among people and cultures, but no matter the culture diversity all children have the same needs and desires.
Activity #2: Cultures Of The World— Let's take a trip around the world and learn about different cultures!
Want to show us your sunflower painting, friday footwork, or say "hey" to your friends at the Club ?
Post on social using the hashtag #bgcneoCyberClub!