Welcome to the Cyber Club!
Follow along in order or mix it up!
Welcome
Fitness
Daily Fitness Challenge #1: Intro and Activity
Arts
Activity #2: Donut Picture Frame– Create a donut frame using cardboard.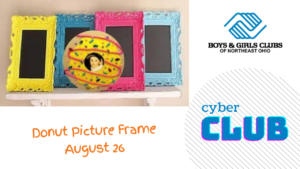 Activity #3: Donut Pillow Plushie– Create a pillow using some sewing techniques.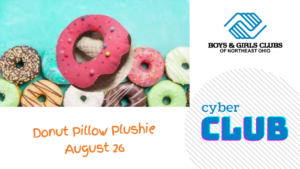 Education
Web Game Wednesday

Activity 1: Rocket Racket— Shoot for the top score in Rocket Racket! Ride a rocket powered skateboard while trying to hit tennis balls into the target. Just be sure to avoid the bowling balls!

Activity #2: Kaotic Kitchen— There's Kaos in the Kitchen! Help Bunnicula make ridiculously revolting food by combining ingredients and cooking them in his pot! 
Character and Citizenship
Want to show us your donut picture frame, Rocket Racket skills, or say "hey" to your friends at the Club? 
Post on social using the hashtag #bgcneoCyberClub!