Welcome to the Cyber Club!
Follow along in order or mix it up!
Welcome
Fun Fitness Facts: Watermelon: Fruit or Vegetable?

Those in the "it's a vegetable" camp say that watermelons belong to the cucumber family (also the pumpkin and squash family) therefore it's a vegetable. However, botanists say that it's a fruit because it grows from a seed. But whether fruit or vegetable, what's certain is that it's good for you. Watermelons are not only refreshing (because it is made up of 92% water), they are also full of the antioxidant lycopene, as well as vitamins A and C and potassium. Plus, the fruit-vegetable is low in calories and has no fat, sodium or cholesterol! 
Fitness
Daily Fitness Challenge #1: Intro and Push Up Challenge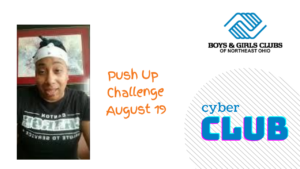 Arts
Activity #2: Heart Pin– Create some basic stitches and learn how to sew on buttons. 
Activity #3: Monster Wallet Project– Create a wallet using felt and some sewing techniques. 
Education
Web Game Wednesday

Activity 1: Let's Go Luna!— Play instruments from around the world to put on a concert and make Luna dance!

Activity #2: Letter Dance Party— In this game, you can practice letter recognition and dance with Big Bird. 

Activity #3: Cyber Pattern Player—Make your own cyber song with the pattern player! 
Character and Citizenship
Want to show us your pushup skills, cyber song, or say "hey" to your friends at the Club? 
Post on social using the hashtag #bgcneoCyberClub!