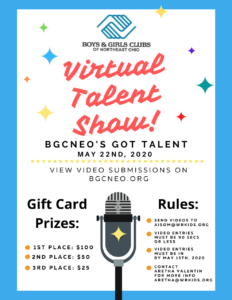 Welcome to the Cyber Club!
Follow along in order or mix it up!
Welcome
Fitness
Arts & Science
Education
Knowledge Hour: Take this time to work on your packets from school!
Activity: Arithmetic Game — Members will play a competitive math game, to see who can get all the answers the fastest, using just a marker and single sheet of paper. 
Character & Citizenship
The World's Family — Check out the way kids around the world show each other kindness and learn about each other's culture.
Spanish Me and English Me — Turn up your computer and dance along to this cool song. If you can speak more than one language, post a video of yourself using #bgcneoCyberClub and let us know what language you speak.
Inspirational Video — Watch as a group of students surprise their school security guard with a big celebration to show how much they appreciate him.
Want to share your second language or just want to say hey to your friends at the Club?
Post on social using the hashtag #bgcneoCyberClub!