Cleveland Peacemakers Alliance
An independent, neighborhood-based organization focused on preventing violence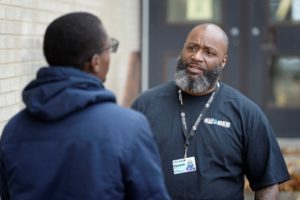 In late 2015, Boys & Girls Clubs of Cleveland — now part of Boys & Girls Clubs of Northeast Ohio — stepped up its efforts to curb street violence by taking over management of the Cleveland Peacemakers Alliance, an anti-crime initiative. Peacemakers Alliance is an independent, neighborhood-based entity dedicated to maintaining peace and keeping young people out of gangs.
Peacemakers Alliance employs outreach workers – including some former gang members – who are credible messengers. The group is involved in mediation, gang interaction, violence prevention, conflict resolution, case management, family services and hospital-based intervention following violent incidents.
Find out more by watching this video.
Members are trained to anticipate where violent youth crimes may occur and intervene before it erupts. The alliance strives to engage the entire community to change behavior and recognize that violence is an ineffective way to resolve conflict.
Key focus areas are:
Outreach: We intervene at the street level by consistently monitoring individuals and groups in higher-risk neighborhoods. We mentor youth and young adults, thereby reducing risk factors and increasing their chances for success. We also help monitor safety at Cleveland Metropolitan School District buildings during student dismissal.
Guiding those already in the justice system: We helped court-involved young people take the steps they need to stay out of trouble and lead productive lives.
Violence interruption:  We have embedded violence interrupters at University Hospitals Cleveland Medical Center and MetroHealth Medical Center to counsel gunshot victims and their families, thereby serving as a deterrent to retaliatory violence.