BGCNEO shifts leadership roles to accelerate Club growth plan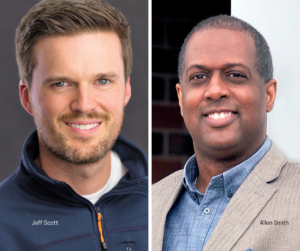 Boys & Girls Clubs of Northeast Ohio is shifting chairs on its executive leadership team, an innovative move aimed at sustaining current operations and accelerating the nonprofit's ambitious growth plan.
CEO Jeff Scott will become BGCNEO's Chief Strategy Officer and oversee the organization's growth plan, which calls for doubling the number of kids served by 2025. Chief Programs Officer Allen Smith, a 30-year Boys & Girls Club staffer and a former Club kid, will take over as CEO.
The switch will take effect immediately.
BGCNEO Board Chair Leslie Murray said the move is not a reflection on the job Scott has done as CEO. In fact, it was Scott who suggested it. Murray called it a "win-win" for the organization.
"Allen is a tremendous leader," she said. "He was a Club kid. He truly understands the lived experiences and heartbeat of our kids and teams. Jeff has demonstrated top-notch strategic planning skills in the private and nonprofit sectors and can now devote his full attention to our growth plan."
BGCNEO, which was formed by the 2019 merger of Clubs in Cleveland, Akron, Lorain County and Sandusky, provides safe, fun places for kids ages 6-18 to go after school with a focus on academic success, healthy lifestyles and character development. The strategic plan adopted by the BGCNEO board earlier this year seeks to double the number of kids served to 20,000 by 2025.
The organization is now looking at the best way to fund the expansion.
Smith, who has been a youth development professional in Toledo and Cleveland for the past 30 years, has been BGCNEO's Chief Programs Officer since 2020. He served in the same capacity for Boys & Girls Clubs of Cleveland before the merger.
Smith has been responsible for virtual programming, site management and safety, food service, transportation, facilities and equipment. During the pandemic, he was instrumental in BGCNEO starting CyberClub, a digital platform from which members could learn and connect with the Club.
He is a native of Toledo and attended Thomas A. DeVilbiss High School before heading to Bowling Green State University on an athletic scholarship. He holds a bachelor's degree in interpersonal communications from BGSU and a master's degree in theological studies from Liberty University.
Smith is currently pursuing a doctorate at Liberty.
Smith, who lives in Avon, has one married daughter and two grandchildren. He has been married for 19 years to Vontyna Smith.
Scott, a former vice president of strategy at KeyBank in Cleveland and later the general manager for Austin, Texas-based Q2 Marketplace, became BGCNEO's first permanent CEO in April 2020. While attending Huntington (Ind.) University, he was a Boys & Girls Club mentor.
Before Scott could get settled in as CEO, the pandemic forced the organization to close all its sites and temporarily lay off hundreds of employees. Even after some Clubs reopened, it became apparent that kids were going to be in virtual learning situations when they returned in the fall.
Scott led a major "pivot" for the organization, creating 19 ClubSmart Learning Centers with high-speed internet access, new electrical systems, laptop computers and mentors who could provide kids with in-person help with their schoolwork. A major summer fundraising push helped finance the improvements. In the end, the learning centers helped hundreds of kids stay on top of their studies.
Earlier this year, Jeff was a presenter at the Boys & Girls Clubs of America's National Conference in Chicago. His presentation, titled "The Art & Science of Organizational Risk Taking," explored the history of risks taken and not taken while challenging attendees to explore potential rewards without fear.
In addition, Cleveland Mayor-elect Justin Bibb in late 2021 appointed Scott to the Public Safety Task Force. The task force supported Bibb's transition team during his first 100 days in office.
Scott is a Parma native who now lives in Brecksville.