Afterschool Boys & Girls Club to open at Barberton West Elementary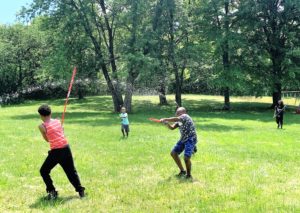 A new afterschool Boys & Girls Club will open Nov. 9 at Barberton West Elementary School.
The new Club will be open Monday through Friday, starting immediately after school and ending at 7 p.m., according to Boys & Girls Clubs of Northeast Ohio. Enrollment in the program is free, but Barberton West families must apply either by completing a paper application from the school's main office or by filling one out online at https://tinyurl.com/BEWBGC.
Completed applications will be time-stamped as they come in. Enrollment in the program will be on a first-come, first-serve basis.
Chad Heileman, BGCNEO's director of school-based initiatives, said membership will initially be limited to about 20 kids in light of the available space and social distancing protocols. He said the plan is to increase capacity following the winter break and eventually serve up to 150 students.
"The Barberton City School District is very excited to partner with the Boys & Girls Clubs of Northeast Ohio," Superintendent Jeff Ramnytz said. "We feel this partnership will keep many of our students engaged beyond school hours in positive activities that will reinforce the academic, social and emotional activities we provide during the school day."
The afterschool programming will consist of literacy and math enrichment, homework help and tutoring, sports and recreation, STEM activities, and character and leadership programing. In addition, a hot, balanced dinner will be served daily. The Club will close when school is closed.
"I am excited about the opportunities our students and community will have with the Boys & Girls Club," said Barberton West Elementary Principal Brenda Sincel. "This will be a good way for our students to get extra academic support along with other activities including arts and crafts, games and sports.  I can see many of our families taking advantage of this new offering in our area."
BGCNEO President and CEO Jeff Scott said this will be a traditional Boys & Girls Club, as opposed to the ClubSmart Learning Centers the organization has opened to provide in-person support during the school day for kids in digital education environments. Traditional Boys & Girls Clubs are open after school, while the learning centers provide in-person and tech support during the school day for kids in digital education environments.
"We are extremely excited to open this Club and provide kids with the kinds of positive, nurturing activities that will help them grow into caring and responsible adults," Scott said.
Heileman said this is the first year of a five-year 21st Century Community Learning Centers grant, a federal funding source dedicated exclusively to afterschool programs.
The Barberton site will become the third Boys & Girls Club open in Summit County. The other two are both in Akron: the Steve Wise Club and the Eller Teen Center. A fourth site, BGNCEO's LeBron James Clubhouse in Akron, has been closed since March because of the pandemic and no date has been set for reopening.